Signs & Serendipity
If my witchy ways and my Serendipity Superpowers bug the shit out of you, then keep on scrolling. 🧙🏼‍♀️✨🦹🏻‍♀️ Team travel took Stephanie and I to Florida for an incredibly intense and gratifying weeklong conference, surrounded by Kick Ass powerful women, 4-500 of them! 👯‍♀️ Plus one. ➕1️⃣
One very special Savvy Sister kept popping up ALL weekend, in the most consistent and profound ways. Vivacious pictures of Stephanie's lifelong best friend Angie, who left this earthly plane in a sudden and hole-gaping fashion, shy of a year ago. Nearly EVERY time Steph looked at her phone as we navigated the content-packed conference center daily, from butt-crack early a.m. til past-pumpkin p.m., there was Another picture of Angie. In every photo, living her best life, beaming her infectious light with her huge smile, those perfect teeth and twinkling eyes! "Hi Angie! We love you, too!" we exclaimed more than twice. ❤️❤️
After dinner the last night, the picture show and the sorrow finally hit Steph and she couldn't keep it bottled up anymore. Tears of love and loss flowed and then More freaking pictures of that beautiful soul. More tears and hugs and snotty laughs. "Oh, Angie!" 😭 We finally turned into pumpkins 🎃 in the wee first hour of our departure day.
⏩⏩ A colorful, Uber ride to Tampa airport deposited us at United Blue 2️⃣2️⃣2️⃣. LOL, of course it did!! 🤳🏼 After taking our "Usie," we walked a few steps, turned R and laughed a good snort when we walked toward the Ticketing 2️⃣2️⃣2️⃣ door. We made a pit stop 🛑at PF Chang's for to-go lettuce wraps and a little airport juice. We bellied up 🆙 and while we waited for our order, I asked a rhetorical question. "Steph, have you read the book Signs: The Secret Language of the Universe?"
After the consistent messages all week from Angie and the TWO, 2️⃣2️⃣2️⃣ signs, I was nudged to tell her more about it. So, for the 6 minutes it took PF Chang's to whip up our snack, I told her about the book. About Signs. ✨ Signs from the Universe and specifically, Signs from loved ones who have passed. I explained they can come in many forms and you can ask for something specific from Beyond to keep the connection with us once they have departed. I asked if she and Lisa (2 of the 3 Musketeers) ever got a random missed call or txt on their still-active group text from Angie. No, nothing yet. Okay, but watch for them, she's obviously here with you. Sometimes the signs are from nature like hummingbirds or butterflies🦋 or blue feathers 🪶or electronics📱and sometimes, you can ask for something more obscure so you "really know," so it can't be confused with anything else but a message from your loved one. Hmmm, she'd think about that. 🤔
We proceeded through security. I forgot my phone in my back pocket so was treated to another screening and then walked on, leaving my phone and my ID, also in my back pocket, at security. I realized my mistake pretty quickly and swam upstream, the wrong way through the security gate to rescue my essentials. I regrouped on a bench just outside security and as I waited for Steph to slog through, checked the time, 11:11! I laughed out loud again. Yep, we were indeed, Right On Time. 💫
We went to the gate and eventually boarded a full flight, sitting on opposite sides of the plane. ✈️ No matter, falling asleep before takeoff is one of my Superpowers. I put my phone in Airplane Mode and promptly fell asleep as the plane began taxiing slightly late for our 12:30 departure. 😴 The next text I sent was to my hubs, 5 plus hours later, when the wheels hit the ground in SFO at 2:43 PDT.
My Travis picked us up curb side and when we got settled in the car, Steph said, "What do you mean, about the Serendipity logo on the hat??" Me, "What are you talking about?" She goes on to say that I sent her a txt about a Serendipity logo and a hat. No, I didn't, it's been a long week and I'm tired and adamant, "Steph, I have no idea what you're talking about, unless it was an old text that somehow didn't go through when we were in Florida, but I have no idea." We drop it.
When I got home and snuggled into the couch with my puppers I opened my phone to see what the heck I could have meant by the "hat text." I studied the unfamiliar words, trying to discern what the heck I could have been referencing and I couldn't come up with anything that made sense. Until I saw the time stamp on the text, 2️⃣:2️⃣2️⃣. But wait a minute, we were in the air, phone on Airplane Mode and I was sleeping. I asked Steph what time the text hit her phone and ummm, "Did you have your phone on Airplane Mode?" Yes, she did, and her text is also time stamped, 2️⃣:2️⃣2️⃣. ✨
I did not write those words. But I know who did. And I also know exactly which picture she's talking about.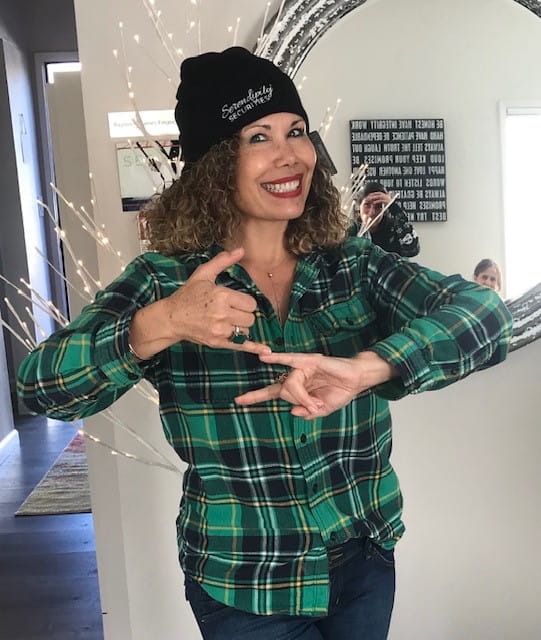 Yes, you guessed it, that's a Serendipity sign she's throwing us in this picture. It was the last time we were all together. Angie died 1/22/22.
"…with Serendipity logo on hat"
I see the Signs. ✨🪶🦋📱🎶